WHAT OUR CUSTOMERS ARE SAYING

"John, thank you for such an amazing job on the urns for my Father. What lovely pieces of craftsmanship.  The love and care that went into these pieces are undeniable. My heart felt at peace when I opened the package to see the urns; where my Fathers' remains will rest with dignity.  Thank you from the bottom of my heart. " – Melissa
Our small business thrives on word of mouth, and there's nothing more valuable than honest reviews from customers like you who have experienced our product firsthand.
If you have a minute, would you mind reviewing the product you bought?
It's pretty easy. If you would like to leave a Google Review click here.
To leave a review on our website, follow this step by step: 
Use the search feature at the top of this page to find the item you'd like to review.

Scroll down until you find your item. Choose your item by clicking on it.

Once you are on the product page, scroll down to find "write a review" (step 1 in the image below).

Click on the "Review" tab and enter your review (step 2 in the image below).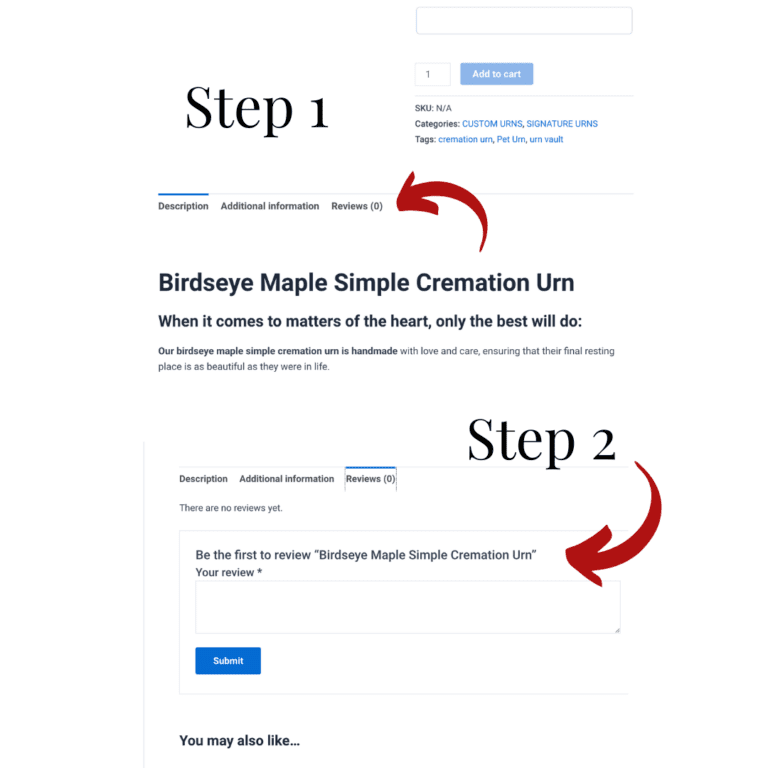 THAT'S IT! THANK YOU SO MUCH FOR YOUR TIME AND SUPPORT, IT MEANS SO MUCH.